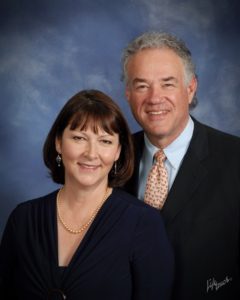 Kathy and I are very pleased and are looking forward to beginning our ministry serving God with the congregation of Port Charlotte UMC. We will begin our ministry on the first Sunday of July, 2016. Much prayer and listening to God has gone into this move, and I am very confident that God has chosen me to be your pastor.
I know you must be curious about my background. We came to Florida in 2000, transferring from the North Indiana Conference. Since then I have served churches in Live Oak, Jensen Beach, St. Petersburg and Keystone Heights. I have three daughters who live in Indianapolis, and Kathy has two sons, one who lives in Austin, Texas and one in Palatka, Florida. We have eight grandchildren. We also have two dogs who are just like kids to us. We enjoy the outdoors, working in the yard, traveling, gardening, and riding my motorcycle.
Kathy has a gift for working with young teens, and has had effective ministry both in the church and in other settings ministering to young people. She also is a great cook. My strengths, according to the congregations I have served, are preaching and teaching. I love to watch people grow in the Lord and experience a closer spiritual walk.
I am confident that God has great things in store for us. Together, we want to be a church that, if Jesus were to walk in, he could say "This is the kind of church I had in mind."
I want you to know that I am honored and very excited about being your pastor. God bless all of you!
Sincerely,
Pastor Craig and Kathy Moore