David deSilva
Director of Music
Email: ddesilva@ashland.edu
Phone: (941) 625-4356
A member of the faculty of Biblical Studies at Ashland Theological Seminary since 1995, David deSilva has specialized in the fields of Second Temple Judaism, the social and cultural environment of the first-century Greco-Roman world, the Epistle to the Hebrews, and the Revelation of John. He holds a bachelor of arts degree in English from Princeton University; a master of divinity degree from Princeton Theological Seminary, specializing in New Testament Studies; and a Ph.D. in Religion from Emory University, with emphases on New Testament interpretation, Roman history, and sociology of religion.
Promoted to associate professor in 1999 and a full professor in 2002, David has published eleven academic books and over sixty articles in refereed journals, collections of essays, and reference works. He has taken leadership roles in the Society of Biblical Literature and is founding program chair of the Rhetoric of Religious Antiquity seminar. In 2001, deSilva was elected to the Studiorum Novi Testamenti Societas.  He received an Alexander von Humboldt research fellowship to study in Tuebingen, Germany, for the 2006-2007 academic year.
deSilva is an ordained elder in the Florida Conference of the United Methodist Church, and has served congregations as an organist and choir director since 1985. He has written extensively for adult Christian education and spiritual formation resources. In 2005, he was named the University's sixth Trustees' Professor, an academic honor awarded by the Board of Trustees to a professor who is recognized as an outstanding educator, researcher and campus leader.
David is married to Donna Jean Heitman deSilva and they have three sons – James, John, and Justin, ages 19, 16, and 13.
https://sites.google.com/a/ashland.edu/daviddesilvaphd/home
---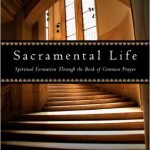 Click on image above to view "Sacramental Life" by David deSilva on Amazon.com
To download the article "Remember Your Baptism" by David deSilva click HERE